Shehryar Munoor has expressed his displeasure at the fans who complained about the absence of a Sindhi woman in the military drama 'Zinf Ahan', made with the cooperation of the Public Relations Department of Pakistan Army (ISPR). You should think more than that.
Recently, Shahryar Manoor Siddiqui shared the highlights of his character Major Osama in 'Zinf Aahan' on his Facebook, people praised him and also complained about the lack of some characters in the drama.
Also Read: The first episode of 'Zinf Aahan' won the hearts of fans
Commenting on the actor's post, a fan asked him why there is no Sindhi woman in the drama 'Zinf Aahan'?
The actor replied to the said fan and wrote that he believes that all the female characters in the play represent the whole of Pakistan and that is the best thing.
Also Read: 'Zinf Aahan': Saira Yusuf and Ramsha Khan's character teasers released
Although most fans agreed with Shehryar Manwar Siddiqui's answer, some fans argued that he was correct in stating that all the women in the play were representing Pakistan, but at the same time they were being shown as regional representation. Is.
A fan mentioned Shehryar Manwar Siddiqui and wrote that the drama makers should give the role of a Sindhi woman in 'Zinf Aahan'.
Also Read: Glimpses Of Kubra Khan And Sajal Ali's Roles In 'Zinf-e-Ahan' Revealed
After people complained about the lack of a Sindhi woman role in the drama, Shehryar Manoor expressed his anger in his long post that the drama fans were prioritizing regionalism over nationalism.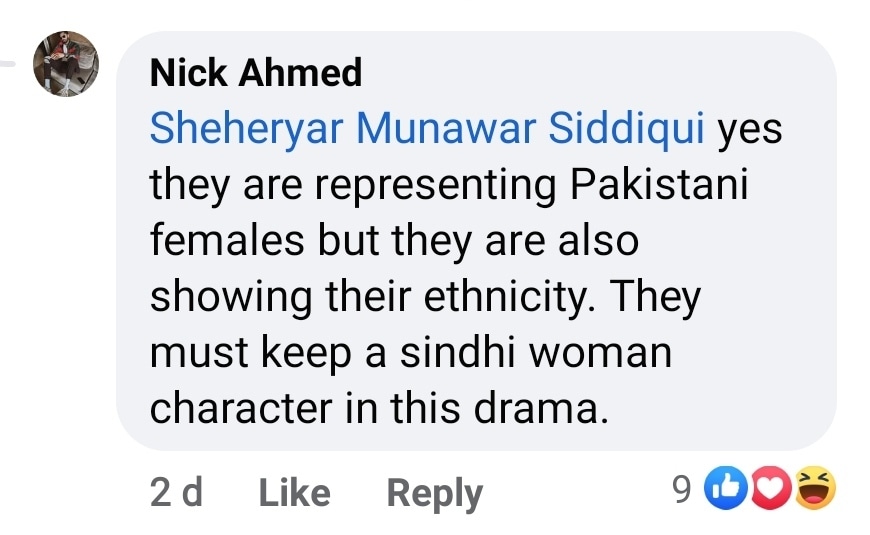 Shahryar Munoor Siddiqui shared a picture of Ramsha Khan, who played the role of a Baloch girl in 'Zinf Aahan', in her post and wrote that she was shocked to read people's comments and at the same time disappointed with the fragmented mindset of some people. happened
The actor advised the fans to see Pakistan as a unit rather than thinking of regionalism, religion, color and race.
He wrote for the people who give priority to regionalism that they should examine things carefully and convey the real facts and message to the people before spreading confusion among the people.
People liked Shahryar Manwar's above comment and agreed with him.
It should be noted that 'Zinf Aahan' is being aired on 'ARY Digital' which is based on the story of women from different provinces and regions of Pakistan becoming soldiers.
The roles of Pashtun and Baloch girls in 'Zinf Aahan' are being appreciated a lot, while the roles of urban girls including a Christian girl have also been included in the play.
The story of the drama revolves around 6 women who are recognized as heroes in their area after joining the army with great difficulty.
The drama stars Saira Yusuf, Kabra Khan, Ramsha Khan, Sajal Ali, Yamuna Zaidi and Dananir Mubeen among others.It is directed by Nadeem Baig and produced by Humayun Saeed's wife.